In accordance with the 6th article of Charity Collection Law no. 2860, it is determined and announced by Council of Ministers, with proposal of Ministry of the Interior, which public spirited associations, institutions and foundations can receive bequests without receiving permission. Institutions with permission to fundraise (foundations and associations) can receive bequests via bursverenler.org.
Within the scope of the same law, other institutions can organize campaigns on highest civilian authority or Ministry of the Interior.
Fundraising, organizing a campaign, using donations by objectives are completely under authority and responsibility of relevant institution.
Donations, made in donation pages of institutions, are transferred to the donation accounts of the institutions, after 4% remunaration is charged.
The instant that, a donation is made to institutions over bursverenler.org, a thank-you message is sent to donator and institution executives are informed via e-mail. In addition, institution executives can see the donations for their institution or project at any time.
* An institution can have more than one project at a time, and can receive bequests from various donator groups.
** Institutions can either set a constant limit for donations, or let the amount of donation free.
For example:To Half Apple Scholarship, in which half of the amount of donation is provided by Yücel Cultural Foundation and the other half by a donator, the donator can contribute as 2.100 TL or multiples of that amount annually.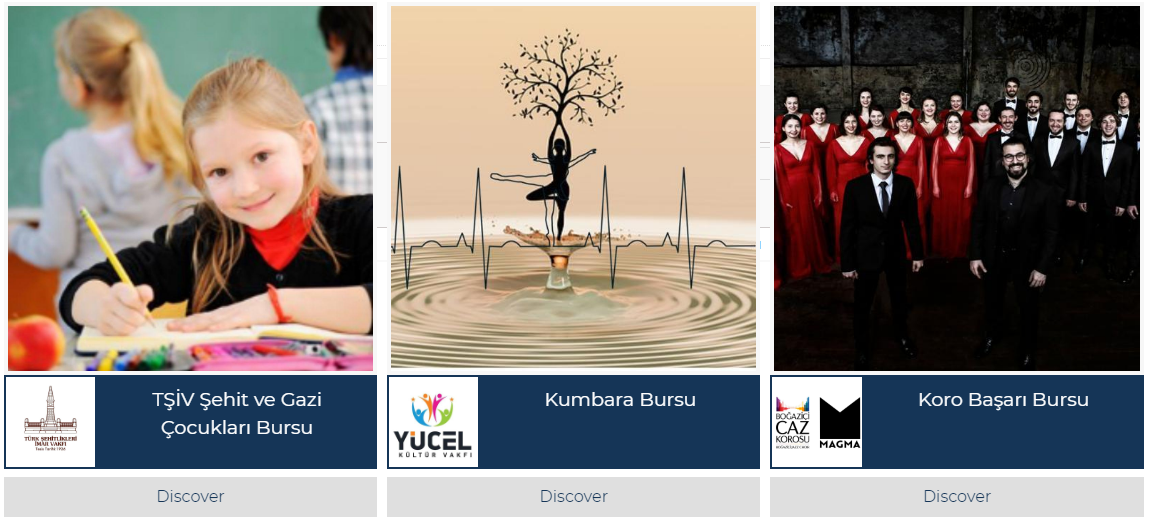 CAMPAIGNS
Monetary campaigns can be done via bursverenler.org. Because the campaigns are periodic, donation screen including the content of that campaign, is edited by bursverenler.org, and the bequests are received via that page.
Donators can contribute, after obtaining information with DISCOVER button as seen above. Number of concurrent donation screens per institutions is limited with 5.